A trendy smile in as simple as 3,2,1.
Deck out your grill with these temporary tooth gems. This pack of Smilegems tooth gems are easy to achieve, with no drilling, pain or damage.
Self-applicator process allows a trendy smile in as simple as 3,2,1. Wear these gems as details to makeup looks, for Halloween looks, festival looks, just let your creativity take over!
Our TEMPORARY Tooth Gem DIY kit contains:

💎 6 assorted Swarovski Crystals: 1 small, 4 medium, 1 large
Wax applicator for easy pick up for the crystal
💎 3 cotton rolls
💎 Adhesive Bond: Reusable & Self-Curing. NO UV LIGHT NEEDED
💎 Wax sheet
💎 Easy instructions in 8 languages for home application

These tooth gems CAN LAST UP TO 4 WEEKS & can be placed on artificial and natural teeth. They can also be removed whenever you wish by running tooth floss under the gem.
✦ Can last up to four weeks only



✦ Suitable for Natural & Artificial tooth surfaces unlike other competitors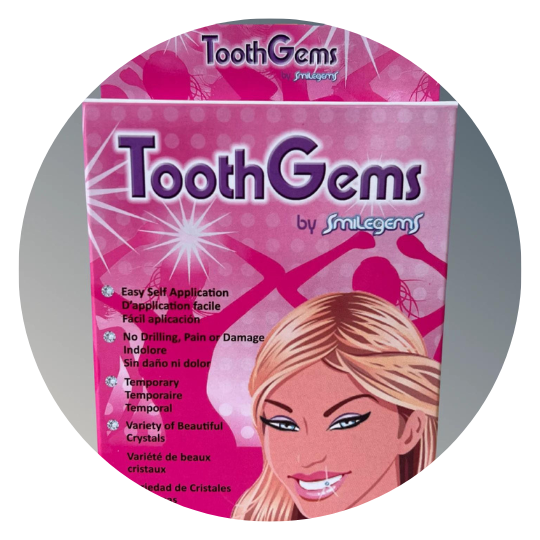 ✦ Great addition for many businesses


✦ You can find these at select Claires & Icing Stores



*WHOLESALE PRICING IS AVAILABLE WHEN YOU BUY 25 OR MORE, CONTACT US FOR A SPECIAL CHECKOUT CODE*